Edward Hopper (1882 – 1967) was a regionalist painter and produced some of the most enduringly popular images in American art. Throughout his career, he created quiet, yet riveting pictures of ordinary people and places, which in his hands became dramatic scenes that express a sense of isolation, anomie, and the bittersweet comfort of being alone.

(Hopper, Edward. Nighthawks. c. 1942. Oil on canvas.
The Art Institute of Chicago.)
Throughout his career, Hopper was fascinated by dramatic lighting and nowhere is this more evident than in his nighttime pictures, where brightly lit interiors contrast with the darkness outside. Glowing fluorescent or electrical lights, which illuminate windows and spill onto otherwise darkened street, set the tone for many of Hopper's paintings and imbue the works with an air of mystery.
His images of New York diners, movie palaces, apartments, and offices reflect urban life in America between the world wars; his light-filled watercolors of the New England coast and its architecture evoke the austere beauty of the region.

(Hopper, Edward. Drug Store. c. 1927. Oil on canvas.
The Museum of Fine Arts, Boston.)
Born in Nyack, New York, at the end of the Gilded Age—a era of remarkable optimism and national pride—Hopper did not come to artistic maturity until the mid-1920s. Steering clear of artistic fashions and trends, he charted a course that bore the influence of many, but beyond the most general designation as an "American realist" kept him from being comfortably associated with any particular group or school.

(Hopper, Edward. Chop Suey. c. 1929. Oil on canvas.
Collection Barney A. Edsworth.)
The scenes he created are still and tense, and often just the slightest action—a gentle breeze rustling a curtain or an absent-minded stroke of a piano key—takes on an unspecified profundity.

(Hopper, Edward. Morning Sun. c. 1952. Oil on canvas.
Columbus Museum of Art, Ohio.)
The voyeuristic possibilities inherent in the modern city, where people lived in close proximity but often with anonymity—are especially apparent at night. Hopper frequently depicted stolen glances from fast-moving elevated trains and glimpses from windows into neighboring buildings, where figures are busy with their own private concerns, unaware or unconcerned that they are being watched. I just love the stillness of the subject matter, the vivid colors and the shadows.

(Hopper, Edward. Hotel Room. c. 1929. Oil on canvas.
Collection Barney A. Edsworth.)
Beginning with his 1933 retrospective at New York's Museum of Modern Art, Hopper received many honors in his lifetime. He himself made no great claims for his art, but his images resonate today as they did with his contemporaries, one of whom aptly described him as "a master whose poetry is realism."
Enjoy :)
Reference:
http://www.nga.gov/exhibitions/2007/hopper/index.shtm
Recommended Reading: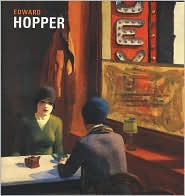 Edward Hopper by Carol Troyen